In certain cases, homes or offices might need a specialised skip hire instead of a waste collection and removal service, once again Monster Removals can be of help. We maintain and provide a cost efficient skip hire service available to private and business customers. Our specialised skip hire service is quite a handy solution when large amounts of waste is generated such as:
Large scale landscaping projects;
Renovation, extension and other home improvement projects;
Large scale clearances of commercial estates;
Convenient and hassle-free skip hire in London
Our specialised skip hire service is designed to save people the hassle of having to find a skip hire company, to figure out what size skip is needed etc. We also deal with all the paperwork so customers have hardly anything to worry about. We are fully licensed and have all required permits.
Viewings, consultations, different skip sizes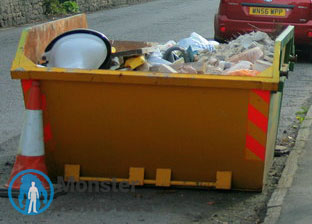 In order to choose the right size skip for your requirements, we can come onsite for a viewing and consultation. Choosing the correct size skip will prove more cost efficient and adequate. The skip will be delivered and placed adequately in a suitable spot, in order to avoid any foot or vehicle traffic obstructions. The skip can be collected at any day of the week customers require, though we would need some prior notice to make the necessary arrangements. When filling the skip, please observe the markings and instructions on the sides, back or front of the skip. Overloading the skip may cause personal injury and/or property damage during lifting and removal.
Our skip hire rates are reasonable and shouldn't be a problem for your household or office budget. For more information and technical details on our specialised skip hire options, please contact our customer representatives, or request a visit from one of our technical consultants.