Commercial property removals are usually complex projects which require careful planning and consideration in order to optimise the process and minimise business downtime for owners or managers. In light of this Monster Removals offers business clients specialised commercial removals in London. The service we offer is suitable for offices, establishments, stores etc. it can also be altered as per individual client requirements so that people running the business get cost efficient, flexible removal service covering everything from start to end.
Professional approach, efficient planning and fast completion
We understand that moving a commercial property can be problematic and that there are no two commercial removals alike. In order to meet the specific needs and wants of business owners, we apply our professional expertise and focus our efforts on organising and conducting the removal process in the quickest, most efficient and inexpensive way.
We will take into consideration all concerns and address all issues in regards to the removal process itself, as well as any additional aspects set forth by business owners in order to ensure everything is taken care of properly.
Since we need to provide a comprehensive and streamlined commercial removal solution, we can visit business owners in advance to discuss, view and plan the project, this will also help us quote and estimate the service accurately thus maintain cost efficiency.
We know that moving a commercial establishment or office is a time consuming project so we will organise and complete the removal in the shortest time possible, minimising business downtime as much as possible.
Various additional options available for a comprehensive business removal service
We are looking to assist our business clients as much as possible, and not only with physical relocation of items and equipment. In order to offer a flexible and comprehensive service, our office removals in London can also be made to include:
Short or long term storage solutions – can be secured for either small or large volume of items;
Commercial property cleaning – we can arrange for professional cleaning treatments for property being vacated, and/or the premises business is moving into;
Office clearances and waste disposal – we are licensed to perform full office clearances, and perform legal disposal of commercial property waste;
Trained and experienced removal technicians, professional drivers
We aim to provide the most professional, efficient and reliable commercial removal service around, this is why our teams and drivers must be up to the task. We have ensured safe handling, quick delivery and perfect coordination of the entire project through working with:
Experienced and trained removal teams who handle their duties with professional pace, precision and efficiency;
Professional, fully qualified drivers who will make sure your equipment and items are delivered intact and on time;
Our professional commercial removals in London are available for booking during all days, including public holidays, under flexible hours. For more i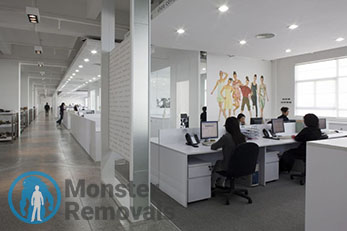 nformation on pricing, availability or to request an in person consultation or viewing, please contact our customer representatives over phone or email. Monster Removals are licensed, registered and hold comprehensive insurance coverage.
London is traditionally known as one of the business and commerce capitals of the world. From an early time, the city established itself as an economic stronghold and has retained, and built on this position until today. In more recent times, London has formed to be the financial capital of Europe, and one of the five key financial and banking centres in the world. Some of the largest corporations and financial institutions out there are either based, or have a major office in the British capital. London's importance in world finance and trade is expected to remain high for the upcoming years.