At Monster Removals, we are the specialists of all house removals in London, big or small. With us, moving places will be made quick, easy and affordable. Forget about the steep service prices, or the worries of whether your belongings will be handled safely and delivered intact – we have everything covered and under control. Our organised and punctual house removal teams will ensure a seamless, hassle-free house removal. We will also save you the stress and worry of having to deal with additional things like packing of items, labelling of boxes etc. as our removal crews have the skills and expertise to handle everything from start to end.
Affordable house removals in London
First and foremost, we aim to provide our residential customers with optimal pricing and genuine value for money. No matter how basic or elaborate the removal, we will come up with the best possible price given the specs of the job. There will be no hidden fees or unmentioned additional charges. We will be more than happy to come out for a viewing and onsite quotation.
Individually prepared quotes and fair pricing supplied to all customers;
For extra value for money combine property removals with additional services we offer;
End to end coverage of all house removal needs
For a seamless, efficient and hassle-free house removal solution, we need to be able to deal with all customer requirements from A to Z. This will not be a problem as we have the skills, expertise and capacity to handle effectively all stages and aspects of the house removal process.
Planning and organising, as well as proper scheduling;
Prep work like packing, securing, labelling and listing of items, boxes etc.
Distribution and unpacking of items and boxes upon delivery;
Move out and/or move in cleaning, as well as property clearances;
Our removal teams and drivers – the ground force that makes it all possible
Monster Removals understands that da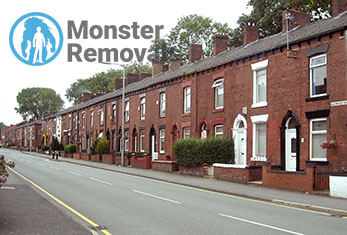 mage or misplacement of items has no place in our professional grade house removal in London, this is why we have a dedicated, talented bunch of skilled and qualified individuals working for us. Our removal technicians will ensure the safe handling of all items. The drivers we employ are experienced professionals who will have customer belongings delivered intact and without any delays.
The removal process itself, including prep work will be carried out in a structured, well organised and efficient fashion with minimum disruption to other property occupants, if there are such.
Our technicians and drivers are courteous, neat and fully uniformed, they handle their duties with professional precision and efficiency, ensuring quick and seamless service for our customers.
The removal vehicles we use are cleaned frequently, well maintained and fully equipped with the necessary tools and protective materials like blankets, straps, bubble wrap, tape etc.
House removals in London are available for booking seven days a week, under flexible hours. For more information on pricing, additional options etc. please feel free to contact our customer consultants via phone or email.
London is an ever expanding urban metropolis, the city has been growing steadily for many decades now, reaching the staggering almost nine million residents, which is quite a few people by anyone's standards. However, London has been suffering from a housing shortage. This, coupled with generally high rental and buying prices on residential properties have made living in London an expensive affair. House sharing has become quite common in London and many people either buy to let, or let to sublet. The demand for rental homes in the British capital has also increased dramatically in the last decade or so, with the trend expected to continue.